News about Ivy Queen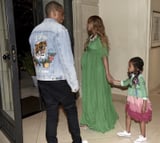 You might assume that the glamorous red carpet premiere of the new Beauty and the Beast movie was all about leading lady Emma Watson, or even the Harry Potter actors who showed up to support her, but you'd be wrong; the real stars of the event were unstoppable mother-daughter duo Beyoncé and Blue Ivy. Queen B documented their night out on her website, which includes shots of the adorable pair goofing off in front of the camera in matching shades of green and their preferred movie snacks (if the stock for Red Vines and Sour Patch Kids suddenly skyrockets, now you know why). Beyoncé, who's expecting twins with husband Jay Z, also posted a few sweet photos of her showing off her growing baby bump. Although there's no word yet on what they thought of the movie, it's safe to say Blue enjoyed it way more than the NBA All-Star Game.
Source :
PopSugar
| 2017-03-06 19:30:00.0
Landon Donovan (35) Brooklyn Beckham (18) Andrea Bowen (27) Erin Heatherton (28) Josh Bowman (29) Margo Harshman (31) Scott Michael Foster (32) Whitney Port (32) K. Michelle (33) Drew Houston (34) Len Wiseman (44) Ivy Queen (45) Chaz Bono (48) Patsy Kensit (49) Evan Dando (50) Sam Taylor-Wood (50) Jason Newsted (54) Steven Weber (56) […]
Reggaeton singer Ivy Queen took to Facebook to post an emotional tribute to her father, Francisco Pesante, who died after a long battle with...